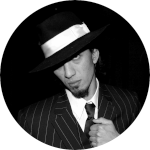 Hey there, I'm "Crypto Ben". I created this website to give you the basic knowledge and resources to get started with Bitcoin and other cryptocurrencies quickly and easily. About Me.
---
What is Bitcoin?
Bitcoin is a new kind of money. It's an implementation of the radical idea of decentralized currency. But why would... yeah, continuing on...
Why Bitcoin?
With Bitcoin you can BE YOUR OWN BANK. You can be in total control of your money- your money cannot be frozen or confiscated and cannot be restricted from receiving or sending to anyone you choose. No censorship. No middleman and no central authority. The "internet of money".